When you find that special place on earth, that certain somewhere that makes you sigh with satisfaction, what follows is an inexplicable something that pulls you back time and again. Fowey on the Cornish coast, weaving its secluded river-meets-sea magic, could be that special place.
And once you've been down here a few times, you get that warm, long-distance-local feeling, and – no doubt – a whole string of precious Fowey holiday rituals that are unique to you, your family and friends.
Better still then, to add one more key ritual: finding a perfect place to stay that you want to come back to. Time and again. Year on year. Home from home. Maybe Number 2 The Old Station Master's House is just the (pun alert) ticket.
No 2 The Old Station Master's House in Fowey: a luxury holiday cottage that's pretty hard to beat
Staying in a heritage building apartment like The Old Station Master's House does beg one question: 'If these walls could talk, what would they say?' Sure, they'd tell nostalgic tales of the Fowey of yesteryear in its railway heyday, but in a strange kind of way you'll find these walls still do talk, thanks to a careful curation of maritime memorabilia adorning the walls, and a sprinkling of unusual vintage artefacts too.
Coupled with the property's sumptuous quality soft furnishings and contemporary decor, The Old Station Master's is a thing of beauty you may want to treat yourself to more than the once!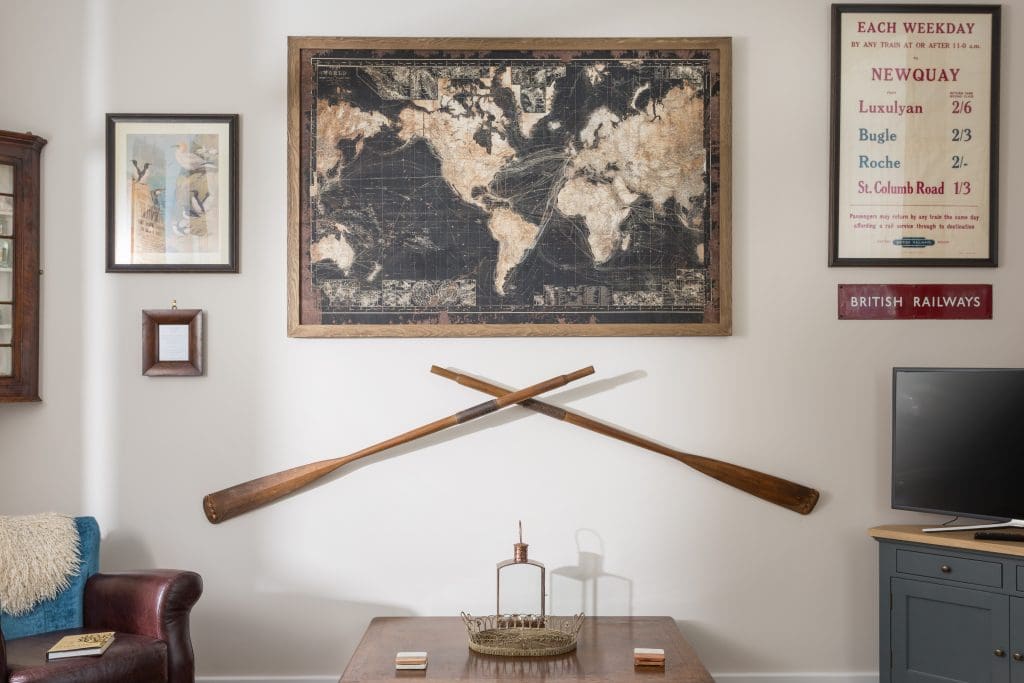 Favourite Fowey fixtures – the holiday just isn't complete without them
Light streams into the 10 feet high windows, a cue to get out and about, since the best time to see Fowey is when it's waking up. Kittows Deli is putting out its veg, the Polruan ferryman is already on his fifth crossing of the day and there's a distinct waft of freshly-baked croissant from the favourite bakers – Quay Bakery. Pick up your warm bundle and head back to base for a fine cup: the complimentary Cornish ground coffee and rather nice crocks will see to that.
Readymoney Cove: an easy to miss secluded spot you won't want to miss
Also kickstarting the day is a walk: always a brisk one to Fowey's secret Readymoney Cove, in the shadow of the imposingIy magnificent Med-like villa (who, we wonder, could live there?) and evocative St Catherine's Castle, surveying the sea. The wild and wetsuited amongst you take their morning dip here, muttering 'oh what a beautiful morning', whatever the weather.
Coffee stops and shops in Fowey
Brisk turns to saunter on the return leg back along The Esplanade, followed by a mooch in Fowey's boutiques, from the specialist (Bookends of Fowey…), to the arty (Webb Street Company…) and the homeware variety (Clementine…). A customary coffee calls round about now and there's a pleasant nod of recognition from the owners at the favourite flat-white haunt – The Lifebuoy.
Lazy lunches – go-to options aren't all pasty-shaped
(…although the Cornish gouda variety at Quay bakery is pretty good.) There's the essential crab sandwich – from Lazy Jack's Kitchen or Captain Hank's shack in season. Now back to the Old Station Master's to rest up, eat, read the newspaper (you know, that rare thing you don't get close to at home) on one of your two terraces. Is heaven in Cornwall?
Things to do in Fowey – take your pick
Afternoons are for splinter grouping. Hop in the car to nearby Charlestown or quintessentially Cornish Mevagissey, or for those who think the seaside is for getting wet, there's Café Kayak downriver in Golant (you've got to love the canoe-cake combo). Meanwhile, the walkers and the eager four-legged take the ferry to Bodinnick to embark on the unforgettable circular woodland and creek route that is the Hall Walk. Heaven is in Cornwall, it seems.
And so to bed
There's an indulgent (and complimentary) swim at Fowey Hall Hotel for anyone with an ounce of energy left to expend, or for those who are calling it a day, there's the honesty-box gin cupboard at base.
In other words, it's the end of (another) perfect Fowey day.
No 2 The Old Station Master's House
House info: Sleeps 4 in two beautiful bedrooms, both with doors to a delightful private terrace. Please bring the dog if you have one. He won't believe his bed.
Also: Two bathrooms and private parking. Most importantly, scones jam and cream on arrival.
Access to town: Many Fowey holiday cottages are on a steep hill but Old Station Master's is a flat three-minute walk into town.
Dinner: Staying in is the new going out. Or we recommend Pintxos for a Mediterranean hipster vibe, Bufala for achingly good pizza (with a view), or Sam's for fine local fish dishes.